From: www.specialolympics.org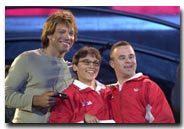 Special Olympics New Jersey
athletes Pauline Naturile and Kenny
Lamonea recognize Jon Bon Jovi for
Inspiring Greatness in athletes around
the world.
Livin' on a Prayer!
Two Special Olympics Athletes Pay Tribute to Jon Bon Jovi
For almost 15 years Jon Bon Jovi has been active in the Special Olympics movement. He has attended scores of competitions around the world, cheered on athletes, presented awards, and overall has brought a recognizable superstar face to the organization. And on 26 July at Giants Stadium, two Special Olympics athletes, Pauline Naturile and Kenny Lamonea, spread the love right back. 26 July, 2001 was a special date for another reason: It was declared "Jon Bon Jovi Day" in the state of New Jersey. Standing amongst Bon Jovi's record label and promotional company execs, media, and hundreds of fans, Pauline and Kenny made a moving tribute to Jon, recognizing the performer for his inspiration to Special Olympics athletes around the world.
"Kenny and I first met Bon Jovi at the 1999 Special Olympics World Summer Games in North Carolina," Pauline said. "He inspired us to do the very best we could and to let nothing stand in our way at the powerlifting competition. Thanks to his encouragement and that of my coaches, family and friends, I won four gold medals at those World Games!" She went on to declare "When Jon Bon Jovi is not at a Special Olympics event, we, the athletes, are at one of his events. Like tonight and every other night of the 2001 CRUSH tour where he has invited Special Olympics athletes as his personal guests. Thank you for providing us with these once-in-a-lifetime opportunities."
Jon has not only invited athletes from all over the world to each of his concerts and been a steadfast backer of them on many levels, he has also served as an inspiring supporter of the A Very Special Christmas CD initiative which raises funds for Special Olympics programming worldwide.
Kenny said it best, "Bon Jovi, you say there are lessons to be learned from us. But everyone here today can learn from you, your leadership, and your dedication to Special Olympics athletes around the world. On behalf of all the athletes of Special Olympics, we thank you for Inspiring Greatness in each of us."