Asbury Park Press
Bon Jovi is No. 1 hit as graduation orator
Published in the Asbury Park Press 5/17/01
By GEORGIA EAST
COASTAL MONMOUTH BUREAU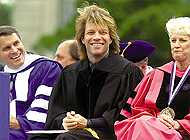 WEST LONG BRANCH -- Just call him Dr. Jon Bon Jovi.
The rock star received an honorary doctor of humanities degree at Monmouth University's 67th commencement and delivered the keynote address urging graduates to follow their passions.
TANYA BREEN/Staff Photographer
Jon Bon Jovi is center stage at yesterday's Monmouth University commencement, seated between trustee Peter Novello and President Rebecca Stafford. He was awarded an honorary doctor of humanities degree.
Bon Jovi was among three recipients of honorary degrees. Thomas E. Daniels, president of Management Business Support Services, was awarded a doctor of public service degree and Lewis M. Eisenberg, chairman of the Board of Commissioners of the Port Authority of New York and New Jersey, a doctor of laws degree.
But it was clear Bon Jovi was the star, as students cheered and jumped on stage to get their degrees and shake the musician's hand.
Professor Brian T. Garvey, who received the university's distinguished teacher award early in the program, said jokingly while accepting his honor, "Just think of me as the warm-up act."
Looking into a sea of black robes under a gray sky, Bon Jovi, 39, encouraged graduates to take chances and touched on his difficult transition from music to acting.
"Bon Jovi was not supposed to succeed," he said. "Ask any critic. We weren't from New York. We weren't from L.A. I didn't live the cliche rock 'n' roll lifestyles that legends were made of."
Raised in Sayreville, Bon Jovi, who lives in Middletown, began his career playing in bars along the Jersey Shore. In the early 1980s the band was formed.
His breakthrough album, "Slippery When Wet," earned him international acclaim. The list of hits since are numerous, and his latest release, "Crush," has been certified double-platinum.
Bon Jovi connected with the graduates when he spoke about venturing out into unknown territory.
"I may have been very successful in my music career but when I started a film career I was just another actor looking for work," he said. "I took acting lessons but I wasn't offered roles. I went to auditions. It wasn't Hollywood calling; It wasn't even Hoboken!" he said.
When he did capture that first movie role, the musician said he was so scared on his flight out that he thought of turning around and heading home.
Since then, Bon Jovi has appeared in such films as "The Leading Man" and in the cable television show "Sex and the City."
Besides his talent, it was his commitment to charitable causes that prompted Monmouth University to honor him.
In 1999, for instance, Bon Jovi opened his home to benefit the Doug Flutie Jr. Foundation for Autism. In 1998 he organized a concert to raise funds for the family of slain Long Branch police Sgt. Patrick King.
This year Bon Jovi was named Humanitarian of the Year by the FoodBank of Monmouth and Ocean Counties.
Near the close of his speech, Bon Jovi counseled the graduates to make noise and get noticed.
"I've been to the top and I've been written off more than once, but I'm still here," Bon Jovi said. "Nothing is more important as passion. No matter what you do in life, be passionate."
Right after the ceremony, the star darted off into a black Cadillac parked on the university's lawn. Reportedly, he's headed to Canada on part of a world tour.
Catherine Carreta of the Class of 2002 was busy snapping pictures of the singer-actor. "I'm a little jealous; I wish we were graduating now," Carreta said.
She really came out to support sorority sisters who graduated yesterday, but said seeing Bon Jovi was "definitely an added bonus."
Published on May 17, 2001